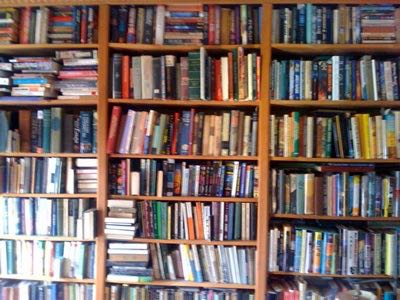 Luddites unite!
I read everything online these days, except books. I don't have a Kindle or an iPad. I have a smart phone, which is smarter than I am, but I don't read anything on it.
E-books are here to stay, it seems -- Amazon sells more e-books than print books. But John Abell, writing in Wired, points to
several reasons
why they haven't replaced paper books. The one I like is this:
E-books can't be used for interior design. Before you roll your eyes at the shallowness of this gripe, consider this: When in your literate life you did not garnish your environment with books as a means of wordlessly introducing yourself to people in your circle? It probably began that time you toted The Cat in the Hat, trying not to be dispatched to bed during a grown-up dinner party.
It may be all about vanity, but books — how we arrange them, the ones we display in our public rooms, the ones we don't keep — say a lot about what we want the world to think about us. Probably more than any other object in our homes, books are our coats of arms, our ice breakers, our calling cards. Locked in the dungeon of your digital reader, nobody can hear them speak on your behalf.
I like to just stand at a bookcase and look at the books. Apparently, Abell does too.
You can't keep your e-books all in one place.
Books arranged on your bookshelves don't care what store they came from. But on tablets and smartphones, the shelves are divided by app — you can't see all the e-books you own from various vendors, all in one place. There is simply no app for that. (With e-readers, you are doubly punished, because you can't buy anything outside the company store anyway).
Apple doesn't allow developers to tap into root information, which would be needed to create what would amount to a single library on an iOS device. If that restriction disappeared, there would still be the matter of individual vendors agreeing to cooperate — not a given since they are competitors and that kind of leveling could easily lead to price wars, for one thing.
But the way we e-read is the reverse of how we read. To pick up our next physical book, we peruse bookshelves we've arranged and pick something out. In the digital equivalent, we would see everything we own, tap on a book and it would invoke the app it requires — Kindle, Nook, Borders, etc. With the current sequence — open up a reader app, pick a book — you can easily forget what you own. Trivial? Try to imagine Borders dictating the size and shape of your bookshelf, and enforcing a rule that it hold only books you bought from them, and see if that thought offends you even a little bit.
Good. I've been predicting the demise of print since I got in the publishing business about a thousand years ago, but I've long since given up expecting anything.